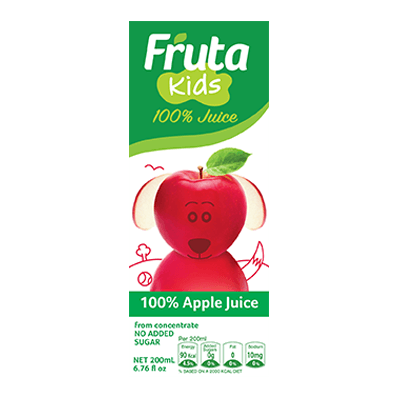 Fruta Kids - 100% Juice
Fruta Kids is a range of 100% juice made with 100% real fruit juice from concentrate.
Fruta Kids is a range of 100% juice from real fruit concentrate made for active and playful kids. It is the perfect serving of fruit juice in a ready-to-drink, conveniently sized pack that is just right for little hands.
Available in 3 delicious flavours: Apple, Grape, and Fruit Punch
100% JUICE from 100% real fruit concentrate
Contains 100% of your Daily Vitamin C
Contains No Added Sugar
Contains No Preservatives
Contains No Artificial Colours
Just the right size for Kids to hold
Perfect serving size for Kids
Available in 200ml
Price Includes FREE 48-Hour Delivery
FREE delivery within 48 hours of purchase.
A customer service representative will contact you within 24 hours once you have completed your checkout to verify your order and schedule your FREE delivery.
Orders placed outside of business hours (Mon 8am - Fri 5pm) will be processed on the next business day.
Thank you for shopping with SMJBeverages.
We accept Cash, Debit Card and Credit Card upon delivery.
Made with 100% Real Fruit Juice
No Artificial Colours or Ingredients